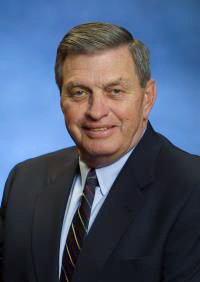 Howard T. Howlett, Jr.
Howard Howlett is Chair of the Board of Southern Tier Health Care System. Mr. Howlett serves as Chair of Starflight MedVac Helicopter Corp. He also serves on the Board of Corporators of University of Pittsburgh Medical Center/Hamot Hospital of Erie, Pennsylvania. Mr. Howlett served as a trustee for 36 years at WCA Hospital in Jamestown, New York. He held several officer positions while on the WCA Board. Mr. Howlett is a board member and past officer of Chautauqua County Health Care Network, WCA Group, Inc., and WCA Foundation. He has served on HANYS' Board of Trustees, the American Hospital Association's Committee on Governance, and chaired the Advocacy Committee, and is a past HTNYS Chair/Founder. He is a member of the American College of Healthcare Executives.
Mr. Howlett received the Buffalo Business First "Healthcare Hero" Award, New York State Association for Rural Health's Rural Health Volunteer of the Year Award, and HTNYS' Trustee Advocacy Award. Mr. Howlett served on the Berger Commission on Health Care Facilities in the 21st Century. Mr. Howlett served as a State Commissioner for the Berger Commission.
Mr. Howlett attended Denison University and Ferris State University and graduated with a degree in Advertising and Printing Management. He was an executive of General Motors Chevrolet Motor Division and had dealerships in Ohio and New York. Currently, he is President of Three Circles, a consulting firm in Lakewood, New York.